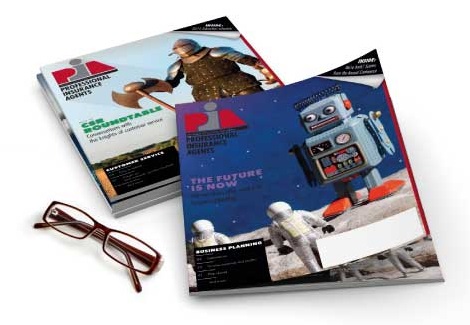 National Feb 1, 2018
PIA partners with AVYST™ to simplify client interviews; make data collection, sharing faster and easier for members
AVYST eForms Wizard to be available to every PIA-Glenmont affiliate member on Feb. 5
GLENMONT, N.Y.—PIA Management Services, the umbrella corporation managing the Professional Insurance Agents of Connecticut, New Hampshire, New Jersey, New York and Vermont, has announced its latest partnership to help members build and grow their business. These PIA members will receive exclusive, free access to AVYST™ eForms Wizard, by AVYST.
AVYST eForms Wizard enables professional insurance agents to efficiently interview clients and prospects on-site; allowing agency personnel to input data directly into forms that are saved and sharable. Once information is collected, it can be conveyed to the business's carriers, wholesalers and other sources within the agency. This innovative system eliminates redundant entry on forms, and empowers the ability to complete multiple ACORD applications; and helps agents get to market faster.
Beginning immediately upon registration by a PIA-member agency principal, every employee the principal designates will have access to a complimentary Gold AVYST eForms Wizard software package.
PIA members will experience a different sign-up process than they are used to.
PIA members should check their email starting Feb. 5, 2018, as they will receive exclusive invitations by AVYST to register and receive a complimentary trial-use period of the Gold program. Members will subsequently be permitted to choose to extend their Gold level package at PIA discounted pricing; move employees to the free Bronze program; or a combination thereof later.
"This PIA-driven initiative is exciting because it provides a solution to the frustrating and tedious process associated with completing a set of ACORD applications to get a quote," said PIA Management Services President and CEO and former independent agency owner, Mark J. LaLonde, CPIA, CIC, AAI. "Conceived by professional agents for agents, AVYST eForms Wizard gives agency personnel a better way to interview clients, prepare documents, and share them among the office and with carriers. It truly is a competitive advantage for any agency that uses it."
"We are thrilled to partner with PIA," said AVYST CEO Marc Still. "As Insurtech becomes a game changer in the industry, AVYST has an extensive road map of solutions to insure that independent agents and carriers continue to be leaders in the transition to the digital future. Our partnership with PIA is a great alignment of interests—we believe PIA is the leading association that is investing in the future of its members' businesses."
For more information about the PIA-member exclusive benefit, PIA members can visit: http://avyst.com/eforms-wizard/thinkpiafirst/ or contact PIA Resource Center at (800) 424-4244 or by email at resourcecenter@pia.org.
Also, PIA will hold a Webinar Tuesday, Feb. 13, 2018, to help members familiarize themselves with this new PIA member benefit. Register for the Webinar here.
Wave Insurance Technologies Inc. d/b/a AVYST™("AVYST"), is a Dallas, Texas and Aurora, Colorado-based company, providing sales and risk management solutions that enable independent insurance agents to efficiently manage a referral through the application and quoting process. This is accomplished with the use of intelligent question sets, standardized workflows, quoting integration and by removing complexity in the way agencies do business today. For more information, visit www.avyst.com.
PIA Management Services Inc. is the umbrella corporation that manages the Glenmont-based Professional Insurance Agents associations, representing independent insurance agencies, brokerages and their employees in New York, New Jersey, Connecticut, New Hampshire and Vermont. PIANY, PIANJ, PIACT, PIANH and PIAVT is a partnership of five, state trade associations representing independent insurance agencies, brokerages and their employees throughout their respective states.
-30-