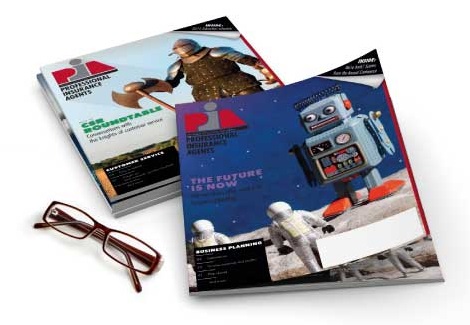 Apr 29, 2014
PIACT and Goodwin College collaborate on insurance curriculum
Hartford, Conn.-The Professional Insurance Agents of Connecticut Inc. and Goodwin College have announced a collaborative effort to provide training and education for students to explore pathways to rewarding careers in the insurance field.
Since fall 2013, PIACT board members have worked with Goodwin College representatives to find a collaborative program that will boost Connecticuts job market and bolster the perpetuation of the states well-earned reputation as a stronghold in the insurance industry. With Goodwins proven track record of placing qualified students onto successful career paths, administration sought to create a new program targeted toward the insurance industry.
"We are very excited about this collaboration," said PIACT immediate past President Augusto Russell, CIC. "Our member agencies have voiced concern over the difficulty of finding new producers and support staff. This collaboration with Goodwin will be an excellent way of bringing in pre-trained, highly motivated, fresh employees to an industry that has been fundamental to our states economy."
The proposed course work would provide a pathway for Goodwin students to gain proper Connecticut insurance licensing as well as practical experience to begin a rewarding career in the industry, while simultaneously helping PIACT member agencies grow with highly qualified, new employees.
This insurance training initiative is part of the business program course work at Goodwin College, which currently offers associate and baccalaureate degrees and certifications. The program already features faculty and administration with insurance and financial-planning backgrounds. These courses include property/casualty; customer-relations management; insurance-software management and social media; and organizational communications.
A highlight of the course work is an externship available to top-tier students, who may be placed in part-time, paid positions at PIACT member agencies and other industry jobs.
"The externship portion of the program is meant to be mutually beneficial to both the student and the member agency," said Dr. Cliff Thermer, associate professor and assistant vice president of strategy and business development at Goodwin College. "We will provide students real-life experience while providing them with crucial training employers seek. The curriculum weve developed in consultation with our PIACT partners includes instruction in the basics of property/casualty insurance and the industry-specific software, as well as hands-on experience that can only be learned in the workplace."
In order to be qualified for a paid externship, students must obtain at least a 3.0 in all insurance coursework, as well as pass through the interview process with the prospective externship site. An externship would be either full-time or part-time, at the member agencys discretion, over the course of 15 weeks-a minimum of 180 hours. The course work also may be used toward a certificate or degree from Goodwin College.
Plans for the initiative are proceeding and Goodwin will begin a soft-launch beginning in May 2014. PIACT is committed to its success. Newly elected PIACT President Peter Frascarelli, CPIA, has said a "primary goal" of his administration is to continue to work through the implementation of this project with Goodwin. "Our industry benefits from the work we are doing with this project. Students and our states economy will benefit from jobs it helps to develop and our membership benefits from the perpetuation of our industry and having skilled, talented workers," said Frascarelli. "Its a win-win-win project for all."
PIACT is a trade association representing professional, independent insurance agencies, brokerages, and their employees throughout the states. Goodwin College is Connecticut's leading career-focused nonprofit college, with its campus located in East Hartford.