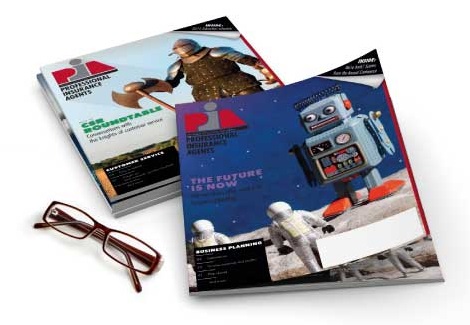 Jan 4, 2018
PIA Management Services, Drivers History announce program expansion into N.H.
GLENMONT, N.Y.—PIA Management Services Inc. and partner Drivers History a company of TransUnion today announced that the DocITTM program now is available for PIA members in New Hampshire. DocIT, is a web-based, propriety database of court-based traffic violation data with a level of detail that often is beyond what is available or shown on the state motor vehicle report. This tool allows PIA member agencies in New Hampshire to reduce their cost of doing business and attract new clients. PIA and Drivers History formed a similar partnership in Connecticut and New Jersey in 2013.
This PIA-member exclusive tool provides Professional Insurance Agents of New Hampshire members with information derived from court records to prescreen an applicant's driving history, at a fraction of a cost of a MVR, to identify ratable activity before pulling an MVR. Since the data is collected at a point in the legal process far in advance of the eventual transcription to the formal MVR, DocIT reports violations weeks or months earlier than previously available.
By identifying drivers who have a ratable history, agents will be able to order MVRs selectively, which will reduce their MVR expenses significantly. The data also provides agents with tremendous visibility into their existing clients and new business prospects to better manage risk, which saves time and matches applicants with the right insurance company. Plus, agents will be able to use DocIT in their marketing activity to generate new business leads more aggressively.
"The partnership between PIA and Drivers History provides tangible time and money savings for our members in Connecticut and New Jersey and has changed the way our members quote auto insurance since 2013," said PIANH Executive Director Kelly K. Norris, CAE. "Now that the product is available in New Hampshire, our members will be able to cut the ever-increasing cost of doing business and grow their prospective client lists."
PIA members interested in obtaining a discount with Drivers History's DocIT program can get information at pages.pia.org/drivershistory.
PIA Management Services Inc. is the umbrella corporation that manages the Glenmont-based Professional Insurance Agents associations, representing independent insurance agencies, brokerages and their employees in New York, New Jersey, Connecticut, New Hampshire and Vermont. PIANY, PIANJ, PIACT, PIANH and PIAVT is a partnership of five, state trade associations representing independent insurance agencies, brokerages and their employees throughout their respective states.
Since 2002, Drivers History has been gathering traffic and criminal traffic records on a daily basis. It obtains this data directly from individual state, county and municipal courts around the country. The company relies on a combination of electronic access and experienced teams of data compilers who personally visit various courts to support the company's data acquisition activities. Drivers History's data collection activities commence when a ticket is issued and track the process all the way through adjudication. This allows Drivers History to report on pending violations, convictions, dismissals and downgrades. As a result, it can identify driving violations much earlier and more accurately than they appear on an MVR. In December, 2014 Drivers History was acquired by TransUnion.
-30-