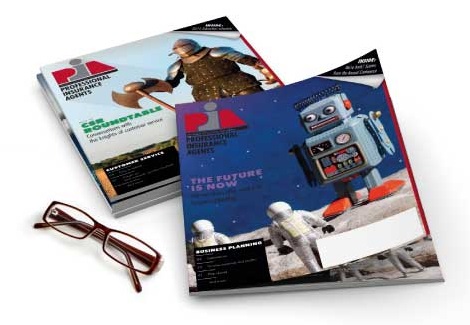 Oct 17, 2018
PIANJ Golf Classic raises more than $55,000 for Special Olympics of New Jersey and a PIANJ-YIP member gets a hole-in-one
Trenton, N.J.—The Professional Insurance Agents of New Jersey 35th Annual Golf Classic raised $55,735 for Special Olympics New Jersey. It proved to be a particularly memorable day for New Jersey Young Insurance Professional past President Aaron Levine of LG Insurance Agency in Long Branch, N.J., who sunk a hole-in-one during the round of golf. Some 100 golfers took part in the event, which was held this month at Spring Lake Golf Club, Spring Lake, N.J.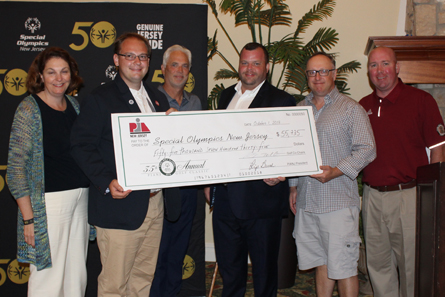 (L-R) President and CEO of Special Olympics New Jersey Heather B. Anderson; Special Olympic Athlete Chris Harold; PIANJ Golf Classic Committee member Steve Radespiel; Co-Golf Chair Andrew Harris Jr., CIC, AAI; PIANJ President Rip Bush, CPIA; and Co-Golf Chair Tom Wilkens.
"For 35 years, PIANJ and NJYIP have supported Special Olympics New Jersey and its programs," said PIANJ President Rip Bush, CPIA. "As independent agents, we are dedicated to our communities and we are proud to have a long-standing relationship with an organization that supports thousands of Special Athletes in our communities and across the state."
PIANJ is Special Olympics New Jersey's longest-running sponsor. In fact, PIANJ's Annual Golf Classic, in conjunction with the New Jersey Young Insurance Professionals and its annual 5K Fun Run, has raised more than $4 million for Special Olympics New Jersey.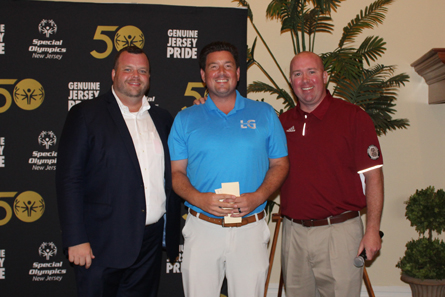 (L-R) PIANJ Golf Classic Co-Golf Chair Andrew Harris Jr., CIC, AAI; PIANJ-YIP past President Aaron Levine; and PIANJ Golf Classic Co-Golf Chair Tom Wilkens. Levine scored a hole in one during this year's event.
"PIANJ is our longest standing partnership. We are proud of the many sports and programs we have afforded our athletes over the years, due to in part the support of PIANJ," said Special Olympics New Jersey President & CEO Heather Andersen. "As we celebrate our iconic 50th Anniversary in 2018 and the 35th PIANJ Golf Classic Anniversary, it is truly inspiring to look back and see everything we have built together and look forward to what the future holds."
Special Olympics New Jersey provides year-round sports training and athletic competition in 24 Olympic-type sports for more than 25,000 children and adults with intellectual disabilities, completely free of charge, giving them continuing opportunities to develop physical fitness, demonstrate courage, experience joy and participate in a sharing of gifts, skills and friendship with their families, other Special Olympics athletes and the community. Visit www.sonj.org for more information. In 2018, Special Olympics New Jersey is celebrating its 50th Anniversary. Over the past 50 years, Special Olympics New Jersey has changed the lives and hopes of thousands of individuals with intellectual disabilities throughout New Jersey. For more information and to see how you can celebrate, visit 50yearssonj.org.
PIANJ is a trade association representing professional, independent insurance agencies, brokerages and their employees throughout New Jersey. Its affiliate, NJYIP is an organization dedicated to the professional and personal growth of newcomers to the insurance industry.
-30-