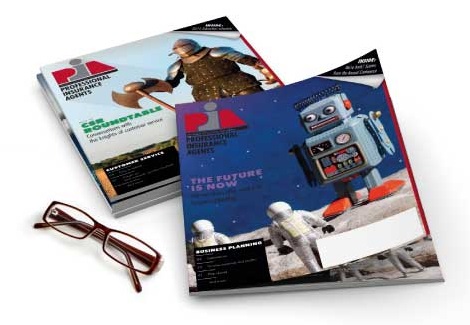 Jun 11, 2014
Insurance professionals' success measured by personal knowledge, professional drive
TRENTON, N.J.–The Professional Insurance Agents of New Jerseys newly elected President Glenn Tippy, CPCU, CLU, discussed attributes that make the professional, independent agency system the best distribution method for insurers and clients, as well as the issues the industry must attend to in order to insure its own future. His observations were made during his inaugural address at the associations Diamond Anniversary Gala Banquet, which was part of the PIANJ/PIANY Joint Annual Conference earlier this week in Atlantic City.
Tippy stated that he thought this might be the most important speech hes ever given when preparing to give his address. However, on further reflection, he knew that he and fellow professional agents in local communities everywhere already had given the most important speech repeatedly during their careers as professional, independent insurance agents. "You know what that speech is?" he asked the crowd. "It goes like this: Youll be OK, you bought what you needed for this, we prepared for this, and well help you get back on your feet."
During his address, Tippy discussed the strengths of independent insurance professionals and that which sets them apart from online insurance providers and other direct-sales organizations.
"We have personal knowledge about our clients. We care about them. We live side by side with them," he said. "This personal relationship, combined with professional drive, made evident and strengthened by our attendance and participation in our association, the information we obtain from PIA–the superior education and networking that keeps us current and connected–are the hallmark of professional, independent insurance agents."
The value of insurance does not come from a simple transaction. Tippy said that professional, independent insurance agents offer thoughtful advice and have unique knowledge of an insured, which is something that cant be provided by a machine.
Tippy also discussed the importance of a strong agent-carrier relationship, noting the relationship works because of strong, vigilant partners. "Successful carriers recognize that professional, local, agents are the most knowledgeable risk assessors of each unique community and because they are the best marketing tool. Professional agents offer consumers a face and a name they trust," he said.
"So, professional, independent insurance agents are going to be around for a long time, and with the help of each other, our partners and our association, we can look forward to a prosperous future," said Tippy. "But, thats not to say we dont have to be concerned. Just as we tell our customers, we need to be vigilant, plan and work to make sure well be OK, that we are prepared and well stay on our feet."
With a nod to his predecessor and board, Tippy said the insurance industry and PIANJ must continue to address important necessities to secure the professional agents future: 1.) bring young people into the business and encourage them to join the PIA Young Insurance Professionals; 2.) support women in the industry; and 3.) encourage people with diverse backgrounds to join the industry. To illustrate his point, Tippy said that PIAs Womens Business Forum has continued to grow and the associations inaugural Diversity Advisory Council was a huge success this past year.
"We do those things and growth will take care of itself," said Tippy. "Perpetuation will take care of itself. Victory for ourselves and our system is assured. Reach out a hand and lets lift each other. Its what professional, independent agents do."
PIANJ is a trade association representing professional, independent insurance agencies and their employees throughout the state.
-30-