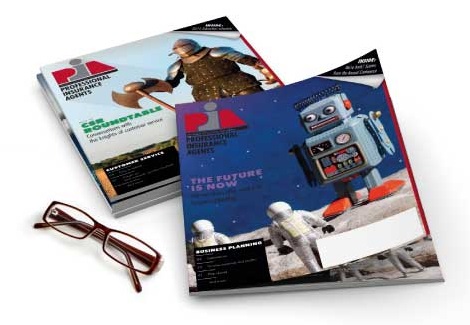 Jun 16, 2010
Agents play to win at PIANJ/PIANY Joint Annual Conference
ATLANTIC CITY, N.J.-The Professional Insurance Agents of New Jersey and Professional Insurance Agents of New York State Inc.s Joint Annual Conference was a success, with nearly 2,000 agents, company representatives, exhibitors and other insurance industry professionals. The Northeasts largest gathering of insurance industry professionals was held June 13-15 at the Trump Taj Mahal, Atlantic City, N.J.

The conference offered attendees the opportunity to participate in educational seminars; attend social events, including a networking reception and recognition banquet; and view the latest insurance products and services available during the expanded trade show.

"Insurance professionals face a wide variety of changing issues in todays marketplace," said Kevin M. Ryan, CIC, PIANY president. "And once again, the Joint Annual Conference delivered the cutting-edge knowledge agents have come to depend on from PIA to enhance their businesses, as well as giving them the opportunity to share ideas with industry colleagues."

The conference opened Sunday, June 13 with the PIANJ Annual Business Meetings, where PIANJs new board members were installed, including newly elected President Donna M. Cunningham, CPIA, co-owner and president of ADP/Statewide Insurance Agencies Inc., Cedar Knolls, N.J. During her inaugural remarks at the Monday night awards banquet, Cunningham talked about her experiences with the association: "Joining PIA was one of the smartest moves [our agency] made," she said. "We must continue to strengthen the independent agency system in order to guarantee its perpetuation."

Both associations honored some of the industrys most dedicated professionals at Monday nights banquet. In New Jersey, PIANJ past President Jack Lynn, CIC, CPIA, account executive for Brown & Brown of New Jersey, Glassboro, N.J., received the Distinguished Insurance Service award in recognition of his more than 30 years if work on behalf of the American agency system. Lisa Tepper, regional president for the downstate New York/New Jersey region of Travelers Insurance Co., was honored as Company Person of the Year for her commitment to professionalism and service. Paul Monacelli, CIC, CPIA, PIANJ past president, CEO of ADP/Statewide Insurance Agencies Inc., Cedar Knolls, N.J., and recipient of last years Community Service award, received a special presidential citation in recognition of his extensive work in Nicaragua, building homes for the less fortunate.
PIANY also presented several awards. Mark LaLonde, CIC, CPIA, AAI, vice president of Bailey, Haskell and LaLonde, Oneida, N.Y, was named Professional Agent of the Year for his excellence and achievement in insurance marketing and service, his personal commitment to professionalism and his contributions to PIA and the community. Additionally, PIANY past President David Isenberg, president of the D.C. White Agency, Long Beach, N.Y., received the Distinguished Insurance Service award in recognition of his history of service, dedicated leadership and attention to the concerns of independent agents and their clients.

This years conference offered attendees access to nine diverse education sessions, which began Sunday, June 13 with the timely session Navigating generational gaps in your agency and in the insurance marketplace, led by PIANY President-elect Donna Chiapperino. The course gave attendees a look at how generational differences impact todays Main Street agent.
Steven D. Lyon, CPCU, CIC, CRM, AAI, ARM, AIS, CRIS, taught two courses: Exploring business income and Insurance to value and adequate liability limits. Sheldon Hansen, CIC, CRM, presented Current economic trends and their effect on the insurance industry and Issues in insuring coastal properties. Jack Monahan, CIC, CLU, ChFC, CPIA, AAM, taught agents the Economics of customer service: retention, referrals and E&O and addressed a common concern in So, you want to go paperless! Cathy Trischan, CPCU, CIC, AU, AAI, CRM, CRIS, rounded out the course load with her own dual sessions: Data breach-privacy compliance and coverage and Ethical issues in E&O.

The conference also included an expansive industry trade show, featuring more than 190 exhibitors. The event concluded on Tuesday with the New Jersey Young Insurance Professionals 26th Annual Fun Run to benefit the Special Olympics New Jersey along the boardwalk, hosted by the New Jersey Young Insurance Professionals. The five-kilometer race raised more than $143,000 for SONJ. The NJYIP and PIA have raised more than $2.6 million over the past 26 years for SONJ.
For more information, visit the event website at http://www.pia.org/events/conf/nynj/index_ny.shtml.
PIANJ and PIANY are trade associations representing professional, independent insurance agencies, brokerages and their employees throughout their respective states.
-30-