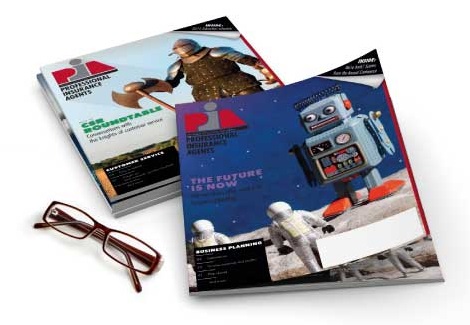 Oct 28, 2011
PIANY's Savino: Fresh perspective will help independent agents evolve; endure
TARRYTOWN, N.Y.-The Professional Insurance Agents of New York State Inc.s newly elected president, Richard Savino, CIC, CPIA, encouraged independent agents to embrace the millennial generation and its way of communicating in order to thrive in todays business environment. Savinos comments were part of his inaugural speech yesterday at the associations Hudson Valley Regional Awareness Program in Tarrytown, N.Y.
PIANY President Richard Savino, CIC, CPIA, speaks at Hudson Valley RAP.
"Independent agents simply must adapt and embrace the tools that will help us to succeed," Savino said to his audience. "We must change our image and we have to stay up-to-date with our business models. We have to deliver 24/7 access; quote online; put ourselves into play and in favorable positions on search engines. We need to put away the paper files and we need to communicate in a multigenerational way."
Savino noted that while perpetuation has been an industry concern for more than 50 years, it remains important. He compared insurances independent agency distribution system to other industries and said it must adapt, or risk becoming outdated and replaced. He asserted that new, youthful professionals entering the industry are the vanguards of evolution, and enjoy greater possibilities than any other recent generation because of technological, logistical and underwriting and communication changes the industry will undergo.
"A recent survey found that younger consumers are much more interested in innovations such as mobile services; much more likely to shop around; and are the most promising market segments. And, more than three-quarters (76 percent) of millennials-those below 35 years of age-are interested in conducting business by using their mobile devices," Savino said. "But, most importantly, young customers are the most willing to pay a premium to get products that meet their needs: Almost three-quarters of 18 to 24-year-olds said they were willing to pay more for it, compared to only a third of people over 55 years of age and 38 percent of 45- to 54-year-olds."
"This presents a huge opportunity for young people to enter and grow in our business," he said. " Young people entering our business now have opportunity we havent seen since the 1950s!"
Savino encouraged agents to recognize the skills and learning opportunities young professionals bring to their business and use the benefits PIA membership offers to help them do what they do best: "Independent agents strength has always been our unique knowledge of our customers and their needs. So, its only logical that we should embrace the tools that will help us do that," he said. "Weve always been the most effective distribution system for insurance because of this, and as the world gets smaller, our ability to act locally, using tools that are designed to help us target and focus these efforts, can only make us stronger. And I look forward to our success."
PIANY is a trade association representing professional, independent insurance agencies, brokerages and their employees throughout the state.
-30-