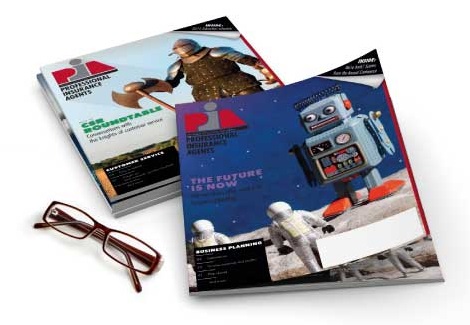 Jan 19, 2012
PIANY's MetroRAP takes networking to new level
NEW YORK, N.Y.-Some 500 professionals representing New York Citys producer community gathered at the Professional Insurance Agents of New York State Inc.s 2012 Metropolitan Regional Awareness Program, Jan. 18, 2012, at the Hilton, New York, Midtown, New York City.
MetroRAP, PIANYs first event of the year, took networking to a new level, featuring education and discourse about the newest ways the insurance industry communicates with clients and colleagues, including a keynote address from Jill Griffin, senior vice president of Strategy and Innovation, Starcom MediaVest Group. Griffin discussed real-world strategies and solutions for harnessing the power of social media and putting it to work for todays agencies. Griffin reinforced the events theme that social media is not just the way of the future, but a necessary activity now for any agency to be successful. She urged the audience to get started, if they havent already, and provided advice on protocol for microblogging media such as Facebook, Twitter and Yelp, stressing the importance of engaging customers and prospects positively and proactively in the digital realm with real examples.
"This is all about communicating, folks," MetroRAP Chair F. Michael Conte reminded the MetroRAP crowd about the importance of joining the social-media trend. "You cant ignore the importance of participating in the conversation."
David Isenberg, who recently retired as president of D.C. White Agency, a division of the Lancer Insurance Group, was awarded MetroRAPs Distinguished Insurance Service Award recognizing a distinguished career of nearly 50 years.
"David is a well-known among us all as a friend and a leader; and it is my privilege to present him with this award," said PIANY President Richard A. Savino, CIC, CPIA, as the audience rose in a standing ovation. "He has always gone above and beyond the call of duty in his commitment to professional independent agents and brokers, and we thank him."
PIANY also presented two scholarship awards to rising stars: Jacqueline Gerbino, Personal Lines Service Representative with Kay Dina Insurance Agency in Marlboro, N.Y., and Jennifer Nall, Customer Service Representative of Member Brokerage Service in Queens, were awarded the Bernard I. Kozel and Arthur I. Moll Memorial Scholarships, respectively. Each winner received tuition to two Certified Insurance Service Representative seminars conducted by PIANY.
The day included a dynamic trade show with new exhibitors and continuing education about new media and technology with the industrys technology veteran, Steve Anderson.
PIANY is a trade association representing professional, independent insurance agencies, brokerages and their employees throughout the state.
-30-