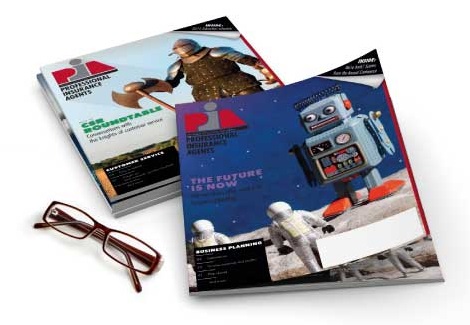 Jan 22, 2013
Leff to receive presidential citation from PIANY
GLENMONT, N.Y.-Harvey Leff, former president of Brooks of New York Inc. will receive a presidential citation for the second time, from the Professional Insurance Agents of New York Inc. at the associations Metropolitan Regional Awareness Program, being held at the New York Marriott in Brooklyn, N.Y. He first received this honor in 2009.
This citation will be given in appreciation for Leffs ongoing efforts to help guide the association and implement programs to benefit its members, and for his ongoing and unwavering support of New Yorks professional insurance agents. His work on PIANYs Metropolitan Regional Awareness Program helped to lay the foundation for its success. MetroRAP is a regional, one-day conference.
"Harvey has been a respected and effective leader in the insurance industry. There are numerous examples PIA can cite, for which he has helped PIANY serve its members," said Michael Skeele, CIC, CPIA, president of PIANY. "Most importantly, Id like to recognize that his loyalty and dedication to the insurance industry extends beyond PIA and our members. PIANY is proud to present him with this presidential citation."
A PIANY member since 1989, Leff has been active in association affairs as chairman of Metro Regional Awareness Program. He also was a member of the associations Education & Conference and Industry Liaison Committees and the New York City Regional Advisory Council.
In 2007, Leff received PIANYs Special Award for Service. Not given every year, it is presented especially to an individual for extraordinary time and effort. In 2004, Leff received The General Agent Executive of the Year award from PIANY at Metro RAP. This award recognizes an individual from a general agency or managing general agency who has forged a strong working relationship with agents and brokers in the insurance industry. Also in 2004, PIANY bestowed the title of honorary vice president to Leff.
In 2007, the New York Young Insurance Professionals, an organization dedicated to the professional and personal growth of newcomers to the insurance industry, presented Leff with a plaque commemorating his many years of dedicated service and outstanding leadership. The association also bestowed Leff with an honorary lifetime membership to NY-YIP. NY-YIP is an affiliate of PIANY.
Twice, Leff has been named PIANYs Committee Chair of the Year. He received this award in 1999 and again in 2002. This award recognizes the time and effort agent volunteers
give to help guide the association and implement programs to benefit its members. Leff was honored for his work as chair of the PIANY Metropolitan Regional Awareness Program and Conference committees.
In 1995, Leff was honored with the Professional Agent of the Year award for his contributions and commitment to the insurance industry, his fellow agents, PIANY and his community. He was also awarded the first Louis A. Morelli Memorial Award in 1994 and was honored by PIANY in 1992 and 1993 with the Membership Sponsor of the Year award
for his outstanding commitment to the association and for voicing his strong belief in the benefits of PIA membership to insurance professionals.
Active in his community, Leff is a supporter of Greene County Womens League Cancer Care and in 2002 he was presented with an award for his outstanding work on behalf of the organization. He also has volunteered for Special Olympics New York and the Breast Cancer Society. Leff is an honorary member of his local fire department. Leff also previously founded and was editor Sacred Hearts St. Stephens newsletter.
Leff has been a resident of Carroll Gardens, Brooklyn for more than 30 years and a 25-year part-time resident of Jewett, N.Y.
PIANY is a trade association representing professional, independent insurance agencies and their employees throughout the state.
-30-