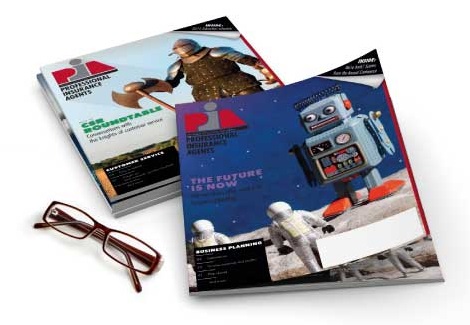 Jun 5, 2014
PIANY honors Ruchman with Community Service award
ATLANTIC CITY, N.J.-The Professional Insurance Agents of New York Inc. presented N. Stephen Ruchman, CPIA, with the Community Service award at the associations annual conference. The conference was held at the Trump Taj Mahal Resort Casino in Atlantic City, N.J., June 8-10.
The PIANY Community Service award recognizes an individual who demonstrate a significant commitment to the improvement of his or her community.
"Throughout his life, Steve has demonstrated a deep level of dedication to his community. He has earned the respect and trust of his neighbors, colleagues and clients," said Alan Plafker, CPIA, president of PIANY. "PIANY is very pleased to recognize Steve with this award."
Ruchman is involved in many community organizations. He is past president of the Peninsula Counseling Center and a member and past president of the Rockville Centre Chamber of Commerce board of directors. He also is division chair for the Insurance Division of the United Jewish Appeal and also has served on the business advisory board of The First National Bank of Long Island.
"Beyond his local community involvement, Steves commitment and volunteerism in the insurance industry is extraordinary," said Plafker.
A PIANY member since 1978, Ruchman served as president of the association in 2004-05. He served as first vice president in 2002-03 and vice president in 2000-02. Currently, is a member of the Government Affairs, Member Benefits & Services and the Nominations Committee. Ruchman serves as an ex-officio member of the PIANJs Long Island Advisory Council. He also is a member of the Nominations and Membership/ Programs Committees. Ruchman also is treasurer of the Governing and Executive branches of PIANYs Political Action Committee. Currently, he sits on the board of PIA Management Services Inc., the umbrella corporation that manages the Glenmont-based Professional Insurance Agents associations in New York, New Jersey, Connecticut and New Hampshire.
In 2001, Ruchman received the PIANY Louis A. Morelli Memorial Award for his tireless dedication in advancing the association. In 2000, he received the PIANY Committee Chair of the Year. Ruchman received this award in recognition of the time and effort he gave to help guide the association and implement programs to benefit its member. He was honored for his work as chairperson of PIANYs Conference Committee.
Ruchman is a regular columnist for the Insurance Advocate, a trade magazine that covers the people and issues affecting the insurance industry in New York, New Jersey, Connecticut and beyond. In 2003, Ruchman was honored by Travelers Insurance Co. with its Long Island Regional Agent of the Year award.
PIANY is a trade association representing professional, independent insurance agencies, brokerages and their employees throughout the state.
-30-