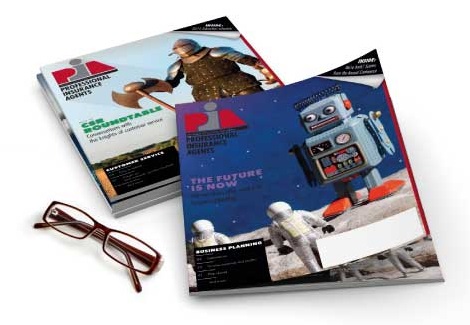 Oct 30, 2014
Durland named PIANY's Hudson Valley RAP Industry Professional of the Year
GLENMONT, N.Y.-The Professional Insurance Agents of New York State Inc. will present Cal Durland, CPCU, with its Industry Professional of the Year award at the annual Hudson Valley Regional Awareness Program, Nov. 6, 2014. The event will be held at the Doubletree Hotel in Tarrytown, N.Y. Durland is director of industry relations for ACORD.
This award recognizes an individual from an insurance company, general agency, managing general agency or other insurance industry profession, who has demonstrated qualities that foster a strong working relationship with agents and brokers, and who has exemplified a commitment to professionalism and service.
"I cant think of a more deserving recipient of the Industry Professional of the Year award," said PIANY President Anthony A. Kubera, CIC. "Cal was an integral player in creating the ACORD 855 form, an addendum to the ACORD 25 with more information about policies for contractors that will help to mitigate some of the challenges agents deal with regarding certificates of insurance."
Certificates of insurance, and the impact of the improper use of them, is one of the featured topics of HVRAP this year, which is themed on issues related to insurance and the Tappan Zee Bridge. Durland and ACORD developed the addendum as part of an industry-wide effort to help insurance agents and their construction clients deal with the requests of third-parties for certificates that may misrepresent coverages that exist in insurance policies.
Durland also manages ACORD-User Group Information Exchange. As the manager of AUGIE, she works with various management system user groups, independent agents, carriers and vendors, to address technology and workflow opportunities. Active in the insurance industry, Durland is president of the Westchester Fairfield Hudson Chapter of Chartered Property Casualty Underwriters and is the vice chair of the CPCU Agent and Broker Interest Group. She was the 2011 recipient of the Wade S. Dunbar Jr. award. This award is presented to a person who has made significant contributions to insurance industry automation.
The days events also will include an expansive trade show, and timely education sessions on The Impact of New York Labor Law on Construction Insurance in the morning, hosted by Richard A. Savino, CIC, CPIA and Tom Tripodianos, Esq. Cathy Trischan, CPCU, CIC, CRM, AU, AAI, ARM, CRIS, MLIS, will host Insuring New York Contractors-The E&O Perspective in the afternoon. Kubera will present a priceless session on one of PIAs many valuable benefits: expert legal review of your agency/company contracts. PIA Director of Government Affairs Matthew F. Guilbault, Esq., will share the important points to which agents should pay attention to before they sign anything.
PIANY is a trade association representing professional, independent insurance agencies, brokerages and their employees throughout the state.
-30-