Clare Irvine
Esq
Clare Irvine joined the PIA Government & Industry Affairs team in July 2018 and holds the position of government affairs counsel. Irvine serves as in-house counsel, responsible for managing public affairs agendas in multiple states, tracking legislation, regulations, significant case-law developments and drafting position statements and testimony. Additionally, she acts as a legal resource for members, responding to association members' legal questions, reporting on legislative and regulatory issues, providing contract reviews and writing articles for association publications.
Prior to PIA, Irvine worked as a legal intern and extern for various organizations and agencies including American Civil Liberties Union, Family Advocacy Clinic at Fordham Law School and the Human Rights Clinic at Fordham Law School, where she conducted legal research as well as communicated and advocated for clients. She acted as a legal extern to Judge Lawrence F. Winthrop of the Arizona Court of Appeals, District 1, where she wrote drafts of opinions. Irvine completed her juris doctor in 2016 from Fordham University School of Law, New York, N.Y., and, prior to that, received bachelor's degrees in both political science and sociology in 2013 from Arizona State University, Tempe, Ariz.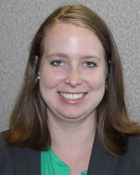 List of upcoming classes for instructor(s)...
---