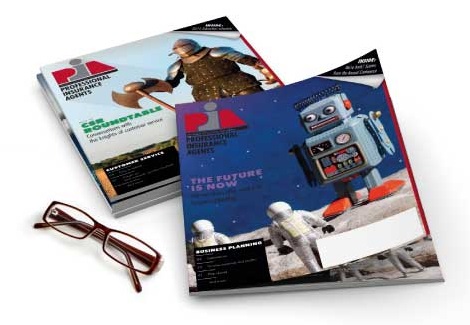 National Feb 19, 2010
Steve Anderson addresses data security concerns of PIA members
Members can learn best practices for safeguarding client information

GLENMONT, N.Y. –With protection of client data and compliance with consumer privacy regulations a top concern for insurance agents, the Professional Insurance Agents of Connecticut, New Hampshire, New Jersey and New York State provide PIA members access to expert advice through the associations Privacy Compliance Central. Nationally recognized technology expert Steve Anderson, editor of the TAAR Report, gives PIA members a look at how to maintain data confidentiality through an exclusive podcast. Anderson recently issued a report, Client Information Security, available through his Web site at www.steveanderson.com.

"Compliance with ever-changing state and federal rules governing the confidentiality of client information can be complicated," said Diane Fowler, executive director of PIACT, PIANH, PIANJ and PIANY. "Steve Andersons insight, combined with the existing tools available in Privacy Compliance Central, helps members make the best choices about privacy for their businesses."

As part of the associations continual efforts to enhance services offered to members, PIAs Senior Research Analyst Ellen D. Kiehl, Ph.D., interviewed Anderson concerning best practices for securing customer information in insurance agencies. The podcast provides agents with some simple steps to take in order to help protect client data, as well as the benefits of doing so. "Tools are available for agencies to use to understand the issue and to be able to take proactive steps to not only protect client data, but also to demonstrate to any regulatory body that the agency has taken appropriate steps," said Anderson, in the interview.

"PIA is dedicated to enhancing continuously the services offered to members," said Fowler. "PIA Privacy Compliance Central is just one of the many unique benefits that make the work of independent insurance agents easier."

The podcast is just one of many benefits PIA offers members in the realm of privacy compliance. Other resources include:
Up-to-date regulatory information, including the latest details on requirements for agents in Connecticut, New Hampshire, New Jersey and New York state;
A privacy compliance questionnaire, to determine if agencies are doing enough to maintain the security of client data; and
A risk assessment survey, which helps members develop an appropriate written information-security program.
For PIA-member access to Steve Andersons podcast and PIA Privacy Compliance Central, visit PIAs Web site at www.pia.org, or contact PIAs Industry Resource Center at
(800) 424-4244.

PIANY, PIANJ, PIACT and PIANH is a partnership of four state trade associations representing independent insurance agencies, brokerages and their employees throughout their respective states.
-30-