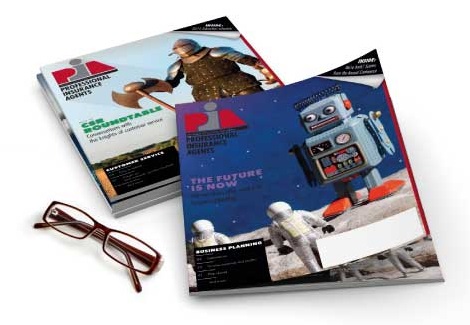 Sep 29, 2014
PIACT- CTYIP recognize agency forerunners, remember industry statesman at first Golden Gala Awards event
ORANGE, CONN.-The Professional Insurance Agents of Connecticuts Young Insurance Professionals remembered a beloved leader and recognized extraordinary agencies from around the state yesterday during its first Annual Industry-Wide Golden Gala Awards Night last evening at Race Brook Country Club, Orange, Conn.
Attendees walked the red carpet and celebrated the extraordinary contributions of agencies with a passion for insurance excellence. Master of Ceremonies, PIA past President and PIACT National Director and PIA National Secretary/Treasurer Timothy G. Russell, CPCU, announced the award winners, and detailed the accomplishments of several worthy nominees. Winners of the awards were:
Peter M. Bakker Agency, of Avon, Conn., for Market Innovation;
Paradiso Insurance, of Stafford Springs, Conn., as Digital Agency;
The Russell Agency, of Southport, Conn., for Industry Awareness and
The DiMatteo Insurance Group, of Shelton, Conn., with the Green and Groovy award
In tribute to PIACT and CTYIP Past President James Goodman, who passed away earlier this year, the industry leader was recognized by CTYIP past Presidents David LaManna and Joseph Bishop, and his wife Sue accepted the Jim Goodman Lifetime Achievement award. The award will continue to bear his name for future awardees. "Originally, the committee planned to accept nominations for a lifetime achievement award, honoring a deserving agent who has demonstrated, across the span of a career, superlative dedication to the values and ideals of the local Main Street insurance agent as well as longstanding membership and participation within CTYIP and PIACT," said Russell. "But as the committee considered the awards criteria, it became clear that CTYIP and PIACT Past President Jim Goodman was the perfect candidate and that the award should bear his name going forward."
Nearly 100 industry professionals participated in the event. PIA-CTYIP President Nicholas Ruickoldt, CPIA, opened and concluded the event. "Its testimony to both Jim Goodman and the associations he helped to build that so many past presidents and colleagues took time to honor our industrys most progressive agencies and Jim himself," Ruickoldt said. "We look forward to hosting this event for years to come in honor of them all."
PIACT is a trade association representing professional, independent insurance agencies, brokerages and their employees throughout their respective states.

-30-