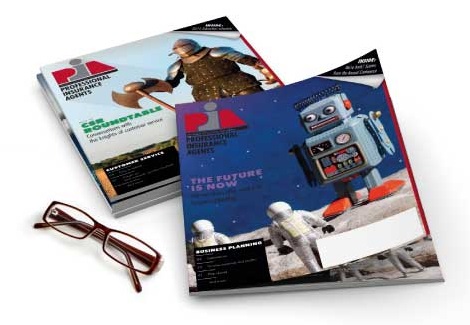 Dec 12, 2014
PIACT recognizes outgoing Insurance Commissioner Leonardi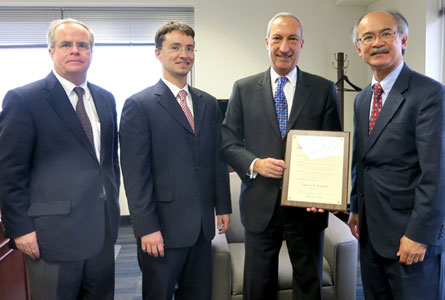 (LEFT TO RIGHT) PIACT Advisory Council Chair Pat Walsh; PIA Government Affairs Counsel Campbell Wallace, Esq.; Connecticut Insurance Commissioner Thomas B. Leonardi; and PIACT Immediate past President Augusto Russell, CIC. The association's team met with Leonardi on Thursday-Leonardi's last day in office-to present the commissioner with a resolution honoring and thanking him for his service to the industry.
HARTFORD, CONN.-The Professional Insurance Agents of Connecticut Inc. presented Connecticut Insurance Commissioner Thomas B. Leonardi with a resolution in recognition of his service to the State of Connecticut and its insurance sector yesterday, his final day in office. PIACT Past President Augusto Russell, CIC, and Advisory Council Chair Patrick R. Walsh, both of May, Bonee & Walsh Inc.; along with PIACT Government Affairs Counsel Campbell H. Wallace, Esq., and Government Relations Representative Jim O'Brien, Esq., met with the commissioner on behalf of the association in Hartford.
Leonardi recounted that he was especially proud of his legacy of fostering increased communication between the CID and the state's insurance consumers, as well as his focus on public outreach and education. PIACT expressed its appreciation for his focus on advocating for well-considered state, national and global regulatory standards, while empowering his staff to more freely respond to the needs of the public.
"Id like to see the next commissioner continue to focus on issues that we have worked on [over the past few years]," Leonardi said.
In a conversation recounting the events of his tenure, Leonardi explained this is an exceptionally important time for the insurance world, for reasons relating to its impact on the state and nation's continued recovery from the past global economic crisis. In a similar vein, Leonardi shared his belief that this is a moment of historical significance for the industry with current decisions having far-reaching impacts on the future shape and direction of insurance regulation.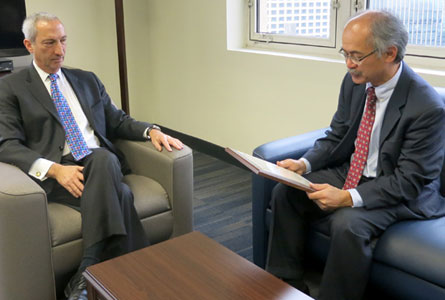 PIACT Immediate past President Augusto Russell, CIC, presents Connecticut Insurance Commissioner Thomas B. Leonardi with a resolution commending his work with the Connecticut Insurance Department.
"In my mind," Russell said, "[Leonardi] was the right man at the right time."
Throughout the meeting, Leonardi expressed that he will miss his post, and look back on his time with the CID fondly. PIACT thanks Commissioner Leonardi for his service and wishes him well in his future endeavors.
PIACT is a trade association representing professional, independent insurance agencies, brokerages and their employees throughout the state.
- 30 -