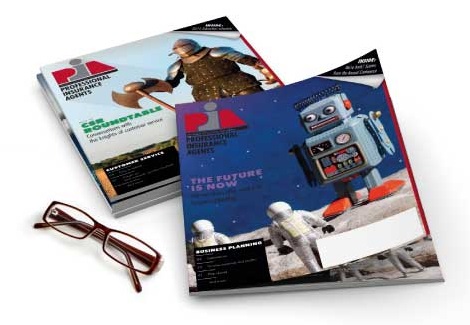 Mar 29, 2016
State lawmakers meet with PIA to discuss insurance concerns for consumers
HARTFORD, Conn.--The Professional Insurance Agents of Connecticut Inc.'s 33rd annual Diamond Club Reception this month convened members of the Connecticut Legislature and some 50 professional, independent insurance agents to discuss issues before the Legislature, including the crumbling foundations legislation that the Insurance and Real Estate Committee heard public testimony on earlier that day.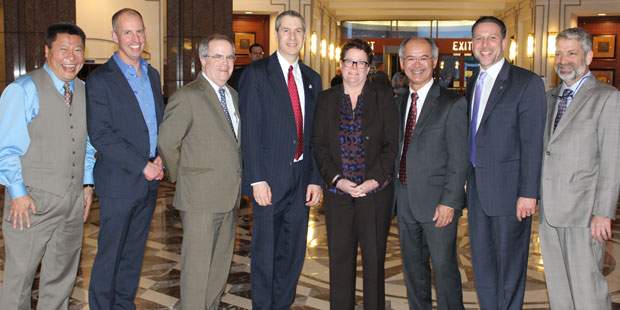 (L-R) Sen. Tony Hwang, R-28; PIACT past President Timothy G. Russell, CPCU; PIACT Member John Walsh; Rep. Brian Becker, D-19; CID Insurance Commissioner Katharine L. Wade; PIACT past President Augusto Russell, CIC; PIACT past President Howard S. Olderman; and PIACT past President James R. Berliner, CPCU.
Connecticut Insurance Commissioner Katharine L. Wade joined Insurance and Real Estate Committee Chairs Sen. Joseph Crisco Jr., D-17; and Rep. Robert Megna, D-97; and committee members Rep. Stephen Dargan, D-115; Rep. Susan Johnson, D-49; Rep. John Scott, R-40; Rep. Kurt Vail, R-52; as well as Rep. Brian Becker, D-19; and Sen. Tony Hwang, R-28; at the Atrium of the Legislative Office Building to discuss obstacles insurance agents and their customers encounter with the filing, processing and handling of insurance claims, especially those involving the crumbling foundations issue and how carriers are handling them. The lawmakers shared with PIA members how the current state budget deficit is affecting other legislation and the legislative process for this short session.
"Each year, a greater number of PIA-member agencies are represented at this meeting, which has become a tradition in Hartford," said PIACT Legislative Chairperson William F. Malloy Jr., CIC. "We are grateful for the interest that our lawmakers and their staffers take in the small businesses and the insurance industry that is such an economic pillar for our state, and for the shared concern we have for the insurance-buying public, comprised of our neighbors and communities."
PIACT is a trade association representing professional, independent insurance agencies, brokerages and their employees throughout the state.
-30-