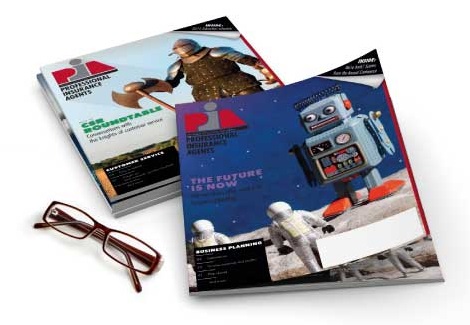 Oct 21, 2009
PIANJ member agency finds new talent with Project Y
The Barclay Group hires new producer after college fair recruitment
RIVERTON, N.J.–The Barclay Insurance Group, Riverton, recently hired Matthew Rosenhoover, Haddon Heights, because of its involvement in Project Y, a joint insurance industry recruitment effort by the Professional Insurance Agents of New Jersey Inc. and the New Jersey Young Insurance Professionals. Rosenhoover, a recent college graduate, is an account executive, responsible for building and maintaining relationships with commercial-lines clients.

?Our agency, like so many others, faces the common and persistent challenge of finding new, young talent to join our staff,? said John Latimer, Esq., president of The Barclay Group and a past president of PIANJ. ?But thanks to our participation in Project Y, we were able to recruit Matt, who is thriving in his work and is one of our up-and-coming producers.?

Rosenhoover found a position with the agency when Project Y made an appearance at his university?s career fair last spring. ?The stereotypical vision of a career in insurance is on par with that of a used car salesman,? said Rosenhoover. ?I learned that this is not the case–it?s a business dedicated to helping people. It?s a rewarding industry, with plenty of opportunity for advancement.?

Project Y is a special joint initiative by PIANJ and the NJYIP, developed to recruit high school and college graduates throughout the state. A key goal of the effort is to create a new image of the insurance industry, projecting it as a field with endless growth potential and exciting opportunities. The plan includes representatives attending college and job fairs, and collecting resumes for a database accessible to PIANJ members looking for new employees. This makes it easier for interested students to explore the insurance industry by connecting them directly with agents.
As a next step in its efforts to help agents find new talent, PIA and YIP introduced a presentation tool kit, which member agencies can use on their own to find employees. This includes a customizable PowerPoint, brochures about the industry and a script for agents to use in classrooms and at community events.

?Students need to know that even in a tight economy, there?s always money available for high-quality hires, like Matt,? said Kim Voelker, director of PIA?s three-state Young Insurance Professionals associations. ?That?s why Project Y is essential–to spread the message to the next generation that insurance is a field that?s lucrative and with many opportunities.?

Rosenhoover earned a bachelor of arts in criminal justice at Richard Stockton College, Pomona, N.J. He interned at the prosecutor?s office in Camden, N.J., which helped to nurture his investigative disposition. ?This is a great career for anyone who is a detective at heart,? Rosenhoover said. ?There is something for everyone in this industry, whether you majored in marketing, accounting or management.?

To learn more about Project Y, visit the Web site at www.projectynj.org, or e-mail the NJYIP at yip@pia.org.
NJYIP is an organization dedicated to the professional and personal growth of newcomers to the insurance industry. It is affiliated with PIANJ, a trade association representing professional, independent insurance agencies and their employees throughout the state.
Established in 1945, The Barclay Insurance Group has been continuously serving the insurance needs of businesses, families, contractors, public entities and emergency squads in the community. Today, The Barclay Group has grown to nine offices in four counties to become one of the largest and most trusted professional independent insurance agents in New Jersey. Since 1999, customers have voted The Barclay Group Burlington County?s BEST Insurance Agency and Gloucester County?s BEST since 2006. For more information, please visit www.barclayinsurance.com.
?30 ?