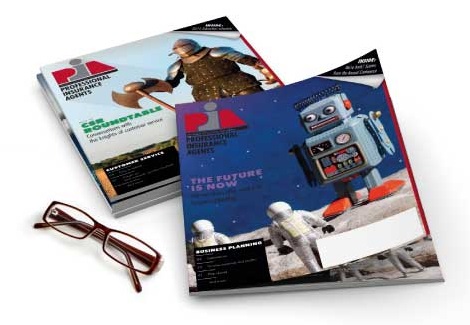 Jun 10, 2014
Ayers receives PIANJ's Company Person of the Year
ATLANTIC CITY, N.J.-James P. Ayers, CPCU, of Branchville, N.J. received the Company Person of the Year award at the 75th Diamond Anniversary Gala Dinner at the Professional Insurance Agents of New Jersey and New Yorks Joint Annual Conference last night. Ayers is president of Franklin Mutual Insurance Co.
Nominated by PIA member agents, this award is presented to an individual who fosters a strong working relationship with agents and brokers, and who exemplifies a commitment to professionalism and service.
"Under Jims leadership, FMI has maintained their staunch and enthusiastic commitment to the professional independent agency force in New Jersey," said Stephen P. Tague, CPIA, PIANJ immediate past president. "His corporate philosophies always have been geared toward the needs of agents and how to better serve them with selling their insurance products also while serving the insurance public. With this award, PIANJ honors Jim for his long-standing commitment to the insurance industry," said Tague.
The three-day PIANJ/PIANY Joint Annual Conference allowed individuals to choose from eight different education sessions and earn continuing-education credits; attend networking opportunities and participate in an expansive trade show. The 75th anniversary was celebrated with a gala banquet Monday. Last year, some 2,000 insurance-industry representatives attended the event, which is the largest gathering of insurance industry professionals in the Northeast.
PIANJ is a trade association representing professional, independent insurance agencies and their employees throughout the state.
-30-