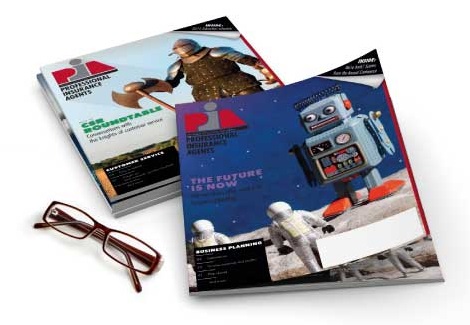 Oct 31, 2018
PIANY's Hudson Valley RAP emphasizes action and presence
Glenmont, N.Y.—The Professional Insurance Agents of New York State held its annual Hudson Valley Regional Awareness Program last week in Suffern, N.Y. Some 250 insurance professionals attended the event.
Newly elected PIANY President Jamie Ferris, CIC, AAI, CPIA, of P.W. Wood & Son Inc., in Ithaca, N.Y., gave his first public address during the event.
Comparing professional insurance agents to superheroes, Ferris praised the independent agent audience, "We are true superheroes. Nobody goes to school with an insurance agent on their lunch box when they start kindergarten. But, when it comes to being smart; working hard; and saving the people of Gotham—we are the ones who step up and get the job done. We are involved in the communities in which we serve. This includes serving on local boards; charitable giving; activities in school events; belonging to local civic groups; coaching youth teams and participating in our religious organizations. Local insurance agents are the backbone of the communities in which we live and do business."
During his address, Ferris focused on the value of PIANY; how agents need to be involved in the association and encourage other members to become active too. He discussed how PIANY members sacrifice their time, knowledge and sweat to benefit the greater good of other agents and the insurance-buying public.
"It's notable that I was first encouraged to join PIA's Advisory Council by a fellow agent, whose customers were in the same area as mine. Rather than keep his PIA network and benefits to himself as a competitive advantage, he saw me as someone who was likewise concerned about our industry," said Ferris. "He knew that in order for us to continue to grow, that we needed to reach other successful agents who have benefitted from this great business and share the advantages PIA offers."
He urged PIANY members not to hold PIA as a competitive secret and to invite other agents to join PIA; the association that is ready to move forward with technology; with information; and as an advocate among policymakers.
"We need to make sure that every agent in our state is a part of PIA; and to make sure that young people entering the job market have heard about the great opportunities our profession can afford them," said Ferris. "So I ask each of you to join me, as the best marketing examples we have, to help your association help you. If you haven't volunteered, contributed to PAC or encouraged a young star at your business to join the YIPs, do it today. If you have done these things, consider participating in the local PIA Advisory Councils—which meet just twice a year—to provide our organization with input and guidance; if you have more time to offer, serve on our committees or boards."
Hudson Valley RAP Committee Chair Donna Chiapperino, CIC, presented PIANY past President Richard A. Savino, CIC, CPIA, with the HVRAP Distinguished Insurance Service award. The award is presented to individuals in the insurance industry who have a history of significant contributions and support to the regional insurance community. Savino received this award for his nearly four decades of involvement in the insurance industry. As an active member of PIANY, Savino is chair of the association's Political Action Committee, and a current member of the Company Relations and Government Affairs and Membership and Programs committees. He also is the state PIA National Director and vice chair of PIA Management Services.
At the HVRAP awards luncheon, PIANY also honored Noff Colabella, CIC, with its HVRAP Service to the Industry award. Colabella, who passed away earlier this year, was dedicated to improving himself and the insurance industry through education. He served on numerous boards and committees in the industry and chaired several insurance carrier-agency councils. His business partner, Brian Colby accepted the award.
Renowned communication specialist Patricia Stark delivered the event's keynote address, speaking to the importance of body language; power positions; and the ways professionals portray their intentions and expectations. With more than two decades on air and as a corporate trainer, Stark has appeared in more than 2,000 Fortune-500 corporate productions spanning many industries. Stark discussed how it's important to watch for people's nonverbal cues during conversations and ask important follow-up questions to make sure that everyone understands the situation correctly.
Attendees had the opportunity to attend two continuing-education classes, taught by Sheldon Hansen, CIC, CRM, CPIA: The Growth in EPLI due to the #MeToo Movement and New Exposures in Errors and Omissions. They also were able to attend an expansive trade show. For more information on the event, including video and photos, PIA members can log on to the PIA website (pia.org) under "Events."
PIANY is a trade association representing professional, independent insurance agencies, brokerages and their employees throughout the state.
-30-