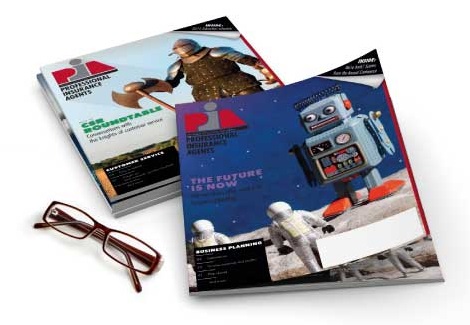 Apr 16, 2010
Utica First's Zick addresses Long Island RAP
Regional carriers CEO gives agents market insight
GLENMONT, N.Y.–Utica First Insurance Co. President and Chief Executive Officer Richard J. Zick, CPCU, AU, delivered the keynote address at the Professional Insurance Agents of New York State Inc.s Long Island Regional Awareness Program, Thursday, April 15, at Leonards of Great Neck, Great Neck, N.Y. Zick presented the perspective of a regional carrier in the current economy, focusing on issues of market-share politics and the continuing soft market.


Michael Cracco, LI RAP Committee chair, first presented the LI RAP Executive of the Year award to Zick. "Richard embodies all of the qualities that make an outstanding company executive," said Cracco. "Through his dedication to the independent insurance agency system, he sets a positive example for other carriers and makes the work of our members and other independent agents throughout New York state easier."

After accepting his award, Zick began the keynote address on issues of concern in the industry: "We [Utica First] have been in Long Island since 1940, so weve been around the block," he said. "Its the companies that get it, its the companies that stay the course and when I see something like this, where youre honoring me, youre not necessarily just honoring me. Youre also honoring the insurer, because its the dedication of the employees that we have and the commitment to Long Island and New York City that allows me to stand before you and make these comments today."

Zick took some time to speak about the current economy and its impact on the industry: "The one [topic] thats on everyones lips is the word soft if somebody had said three years ago, how long do you think the soft markets going to last, I wouldve said, dont worry about it. But everyone wants to know, when is this thing going to turn? Everyones got a different opinion." He stressed the importance of companies understanding the work of agents in order to survive a weak market.


"Think about when you walk into an agents office; whats the first thing you see? Plaques on the wall! How many of those companies are still in business? How many of them really got it? How many of them stayed the course?"
He then shared a bit of advice: "Theres something I learned a long time ago. You play in the hard [market], you take a break in the soft [market]. If you chase the rates to the bottom of the floor, you are never that much smarter than anyone else out there. If someone can write a risk for half the price of what I am, take it. I cant chase it to the floor. I want [Utica First] to be around for another 50 years; I dont want to be one of those plaques on the wall theres only so many things you have in your pockets as an insurer."

Zick also addressed another top-of-mind issue for New York states independent agents: producer compensation disclosure. "Ive probably said more on this issue than anyone in this room," he said. "Theres no reason in the world that this should have started in the first place," he added, causing the room to explode into enthusiastic applause. As a board member of PCI and current chairman of the New York Insurance Association, Zick pointed out that this is an issue of concern for the whole industry, not just agents. "Align yourselves with these [company] groups, too. Make sure theyre getting their comments in as well. This should not just be an agency issue, but a company issue as well."
He expressed his desire for an easy, simple form of disclosure, which will impose the least possible burden on agents and companies alike. "We have no problem with disclosure, in a limited form. A company could easily put out a page stating we pay an agent compensation and profit sharing. If it could be that simple it could get done."

The Louis A. Morelli Memorial awards also were presented to Garrett M. Duffy, president of Babylon Spirit Inc. and, posthumously, Dwight Stanley Landberg, CPCU, marketing director of Kingstone Insurance Co. Long Island RAP also included insightful education sessions, Generational gaps: Are they working for or against your agency? presented by Donna Chiapperino, and Current economic trends and their effect on the insurance industry, instructed by Sheldon Hansen, CIC, CRM, CPIA. Some 500 insurance professionals attended the daylong event.
A full wrap-up of this years event will be available on PIANYs Web site at www.pia.org.
PIANY is a trade association representing professional, independent insurance agencies, brokerages and their employees throughout the state.
- 30 -