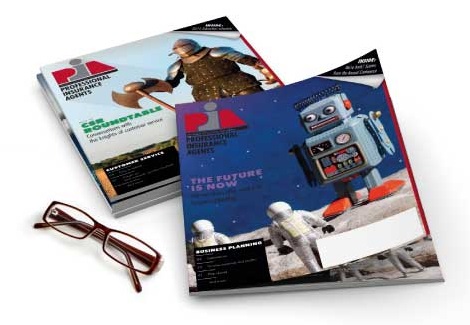 May 6, 2014
PIANY's Long Island RAP at the intersection of insurance and hockey
NEW YORK, N.Y.–Over 400 professionals representing Long Islands producer community gathered at the Professional Insurance Agents of New York State Inc.s 2014 Long Island Regional Awareness Program, May 1, 2014, at a new location: Crest Hollow Country Club in Woodbury, N.Y.
Long Island RAP featured an eagerly anticipated keynote luncheon address by Bob Nystrom, a.k.a. "Mr. Islander"–the former New York Islander, adopted Long Islander and 24-year insurance industry veteran.
Nystrom emphasized the importance of PIA for agents and the entire industry.
"PIA has certainly done a wonderful job over the last [75] years, and they continue to do incredible work for the insurance industry. They provide a wealth of information and updates to the insurance agents [a]nd, needless to say, so many things have changed in the industry over the last few years; it has become so important for all agents to be kept up to date on new developments, changes in regulations and also new legislation."
Nystrom shared with RAP attendees lessons he learned from his former coach, Al Arbour, including the piece of advice that allowed Nystrom to move past a game-losing performance in game five to score his famous winning goal in game six of the 1980 Stanley Cup finals, in overtime against the Philadelphia Flyers:
"There is nothing you can do about something that you did three seconds ago, five minutes ago, five years ago. You cant do anything about it. Learn from it; file it; and forget it."
Also during lunch, Nassau County Legislator Michael Venditto received the 2014 Long Island RAP Community Service award for his work with Superstorm Sandy relief centers, as well as his advocating for drug and alcohol prevention, community health care and small businesses.
"When Superstorm Sandy hit in October 2012, we were all victimized," PIANY Vice President Michael Cracco said as he presented the award. "He worked day in and day out, for months, to bring his community back to life."
PIANY also presented the Industry Professional of the Year award to John Farese, regional sales director for Travelers Insurance Co. The award recognizes an individual from an insurance company, general agency, managing general agency or other insurance industry profession, who has demonstrated qualities that foster a strong working relationship with agents and brokers, and who has exemplified a commitment to professionalism and service.
Finally, PIANY honored Robert Birner of Morstan General Agency with the Distinguished Insurance Service award.
"The Distinguished Insurance Service award honors an individual who has dedicated his or her life to the insurance industry," said Long Island RAP Committee Chair Michael Loguercio, "a distinction that represents our honoree, who has tirelessly worked for his community for more than 55 years."
Thanks to two continuing-education courses, event goers also were able to earn valuable CE credit during Long Island RAP.
In the morning, Cathy Trischan, CPCU, CIC, CRM, AU, ARM, AAI, CRIS, MLIS, led Certificates of Insurance–NY Construction Changes. Attendees learned about the New York Construction Certificate of Liability Insurance Addendum, and discussed both the mechanics of completing the form and coverage issues.
In the afternoon, Trischan returned to lead Ethical Issues in E&O, which addressed the very delicate choices insurance professionals make to both serve their dual loyalties and protect their agencies against errors-and-omissions claims.
Throughout the day, industry professionals browsed a busy, sold-out trade show with scores of exhibitors displaying the latest products and innovations in the field. A variety of door prizes and contests created a palpable energy on the floor.

PIANY is a trade association representing professional, independent insurance agencies, brokerages and their employees throughout the state.

-30-