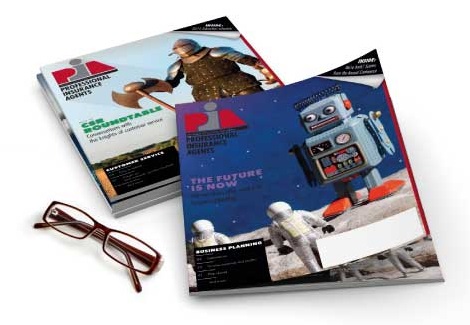 Nov 3, 2015
Assemblyman Zebrowski: PIA, lawmakers can be mutual resources to improve N.Y.'s laws and regs
GLENMONT, N.Y.-Assemblyman Kenneth P. Zebrowski, D-96, was the keynote speaker during the Professional Insurance Agents of New York State Inc.s Hudson Valley Regional Awareness Program. Zebrowski said his relationship with the association, its members and how they worked together on one of PIANYs top priorities-to adopt new regulations governing automobile photo inspections-made it easier for agents and drivers to comply with the states mandatory photo inspection rules. Nearly 300 insurance professionals attended the daylong event, which took place Oct. 28, 2015, at the Doubletree Hotel, in Tarrytown, N.Y.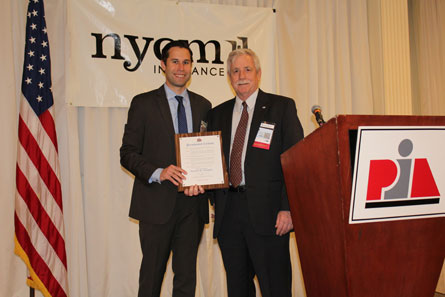 PIANY President Gene Sandy, CIC (right), presents a presidential citation to Assemblyman Zebrowski.
At the luncheon, Zebrowski spoke of his work as chair of the Commission on Administrative Regulations Review and his experience in exploring issues in depth. He said that if insurance agents and others bring antiquated laws and regulations (such as New Yorks photo inspection rules) to his attention, he is willing to listen. During PIANYs talks with Zebrowski regarding the photo inspection rules, he recognized how the associations proposed changes would help his constituents and all of New York states drivers, which is why he was willing to sponsor the bill. "Use me as a resource," he said. "Ill meet with agents throughout the year."
When he spoke of the years it took to reform the states photo inspection regulations, Zebrowski said: "PIANY does a good job of getting a job done Its about constant education from people who are willing to get in the weeds to inform legislators." And, his advice to agents about enacting legislative reform: "Keep your eye on the ball. Start talking to a legislator, who is willing to listen [to your issue]."
The assemblyman also spoke about his frustrations with the states small-business climate and how people seem more driven to identify the next big thing, rather than focus on what is best for New Yorks small businesses. "We have a business climate that is drowning in unfair regulations," said Zebrowski. "The state needs to look at things that are affecting small businesses."
Concluding his address, Zebrowski took questions from the audience, who asked if he thought anything might happen with the states unique Labor Law. Zebrowski said there have been more discussions about changing the law in recent years.
An audience member also asked if New York might address the Patient Protection and Affordable Care Acts definition of a small business. Prior to the passage of the Protecting Affordable Coverage for Employees Act under the PPACA, employers with up to 100 employees were considered "small" employers for the purpose of health insurance markets, and all states were required to have their small group cut-off at 100 employees effective Jan. 1, 2016.
As for the PPACA, he reported hearing from a number of small businesses, which would be affected if the small-business definition were to be changed. He said that now that the federal government has provided leeway through the Protecting Affordable Coverage for Employees Act-which would allow a state to define small employers as those with fewer than 50 employees-its a discussion he will bring up in the Assembly.
Hudson Valley RAP also featured an address by recently elected PIANY President Gene Sandy, CIC, who spoke of the associations recent legislative successes on behalf of its members-the new certificates of insurance law and the auto photo inspection requirements. Throughout Hudson Valley RAP, insurance professionals had a chance to meet with colleagues and see the latest insurance products during a sold-out trade show and some 40 people attended each of the education sessions-CSI: Cyber Threat and E&O-The Next Generation, both of which were approved for continuing-education credits. PIA members can view photos and videos from the event on PIANYs website (pia.org) under "Events" or see the December issue of PIA magazine.
PIANY is a trade association representing professional, independent insurance agencies, brokerages and their employees throughout the state.
-30-